Made in the
U.S.A.

Copyright 2012. All rights reserved. titleiiarms.com



Email us at: sales@titleiiarms.com


UZI Pro Pistol PDW Brace/Stock

Uzi Pro Pistol Telescoping Brace
With Mod1 TAILHOOK
Limited Stock at this time. Add to cart to check for availabilty.
$279.00 + $11.95 shipping
(PA residents pay 6% tax)
NEW! UZI PRO PISTOL PDW TELESCOPING BRACE/STOCK

This is our new UZI Pro Pistol PDW Style Brace/Stock Assembly. Designed to fit the Pro Pistol Perfectly and slide onto the factory frame slots. Low mounted rods along the frame clear the bolt port and selector switch perfectly. We maintained the factory drop and even added additional Buttplate/brace height adjustment to the rear plate. Only adds apx 2" to rear with Tailhook setup. Extends to apx 14.5" length of pull depending on rear option (same as the factory Brace) The Ergonomics are outstanding with the Tailhook option. Allowing perfect wrist support when fully collapsed or on the arm when extended. Options include a Tailhook Mod 1 Aluminum Brace, SB Tactical Rubber Brace or a Ace Ultra Light Buttplate with rubber pad. Also available with just a mounting stud for the Tailhook for those that already own one. All 6061 Aluminum CNC manufacturing finished in Black Anodize. Telescoping Rods are made from high strength 2024 Aluminum. Easily secures with two High Hold setscrews into the rear of the frame.


( Note: Do to the very low Factory Iron Sights and the necessary rod offset to clear the frame, The sight picture using this with a buttplate against the shoulder is not easy to get without pressing your cheek hard into the rod to obtain a decent sight alignment. We HIGHLY recommend a glass sight/red dot mounted to the top rail to raise the sight picture to allow a much nicer and more natural sight aquisition. The shooting experience is 10 times nicer and more accurate then the Iron Sights. Brace setups for one hand supported shooting is not affected since your not shouldering the gun and the factory sights work fine.)
Uzi Pro Pistol Telescoping Brace
With SB TACTICAL MINI BRACE
Uzi Pro Pistol Telescoping STOCK
With ACE ULTRA LITE BUTTSTOCK
$229.00 + $11.95 shipping
(PA residents pay 6% tax)
$229.00 + $11.95 shipping
(PA residents pay 6% tax)
UZI FAKE SUPPRESSORS
UZI PRO PISTOL
UZI FOLDING STOCKS
SUPPRESSORS Class 3
MP5 SD Barrel Extension
MP5-3LUG FAUX Suppressor
MAC SUPPRESSORS
3 LUG COMPENSATOR
ACCESSORIES-ADAPTERS
UZI PARTS
PS90
KRISS
SIG MPX MCX RODS
SiG MPX Fake Suppressors
Sig MPX Stocks
SIG MCX
CZ 805 BREN
CZ Scorpion EVO
STRIBOG SP9A1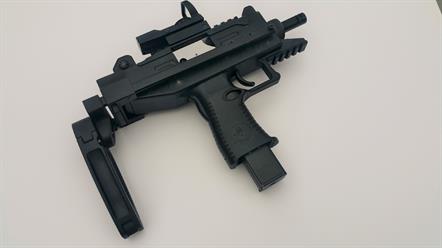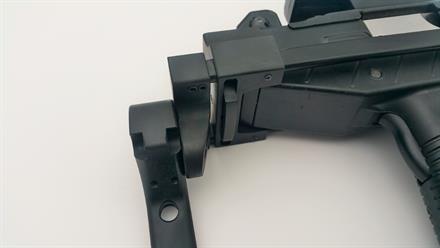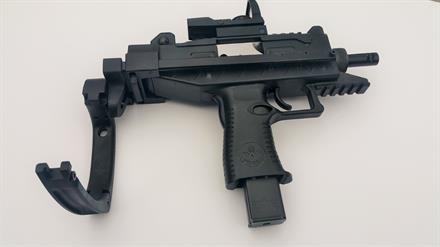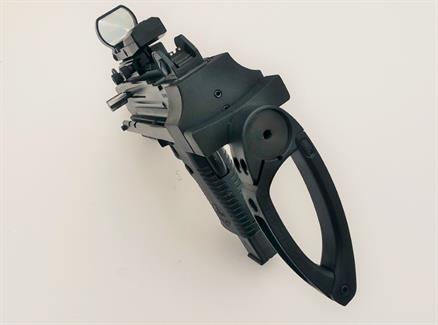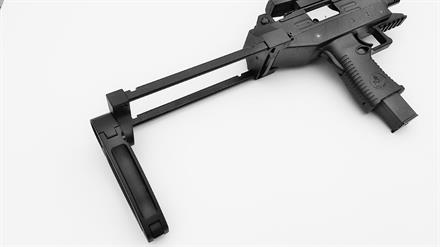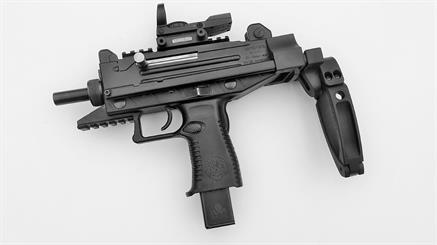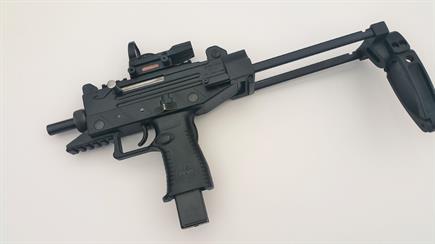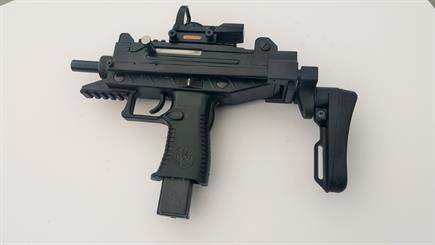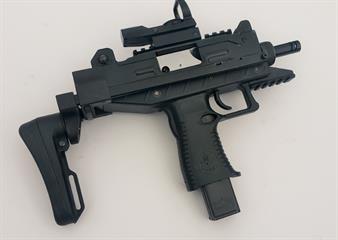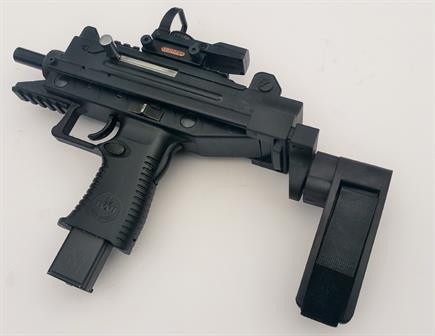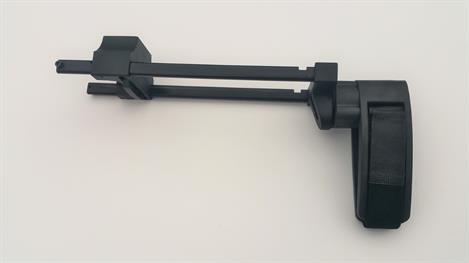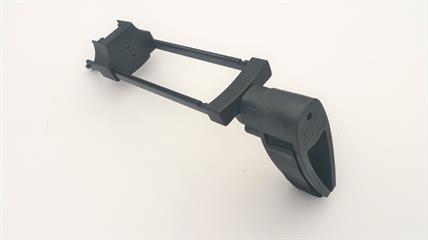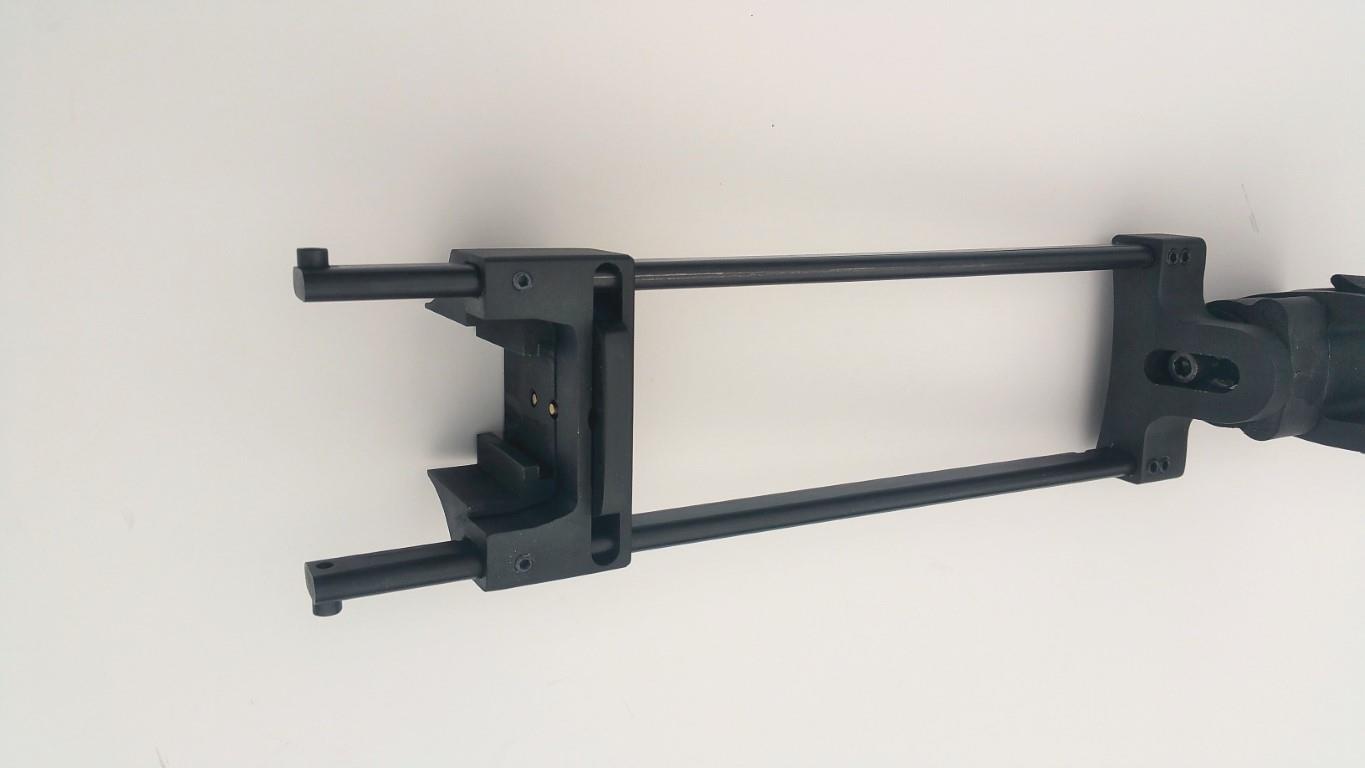 Uzi Pro Pistol Telescoping Brace
With Tailhook Stub Only
$179.00 + $11.95 shipping
(PA residents pay 6% tax)