Made in the
U.S.A.

Want a Custom size, Custom part, Custom Gun ?

We can design and build just about anything you can think of.
Drop us an email.

TITLEIIARMS
482 Dilliner Hill Road, Dilliner, PA 15327 Email: sales@titleiiarms.com
We accept payment by MO, CHECK, CC. Most Items will ship within 5 days USPS Priority mail. Some delays are possible when we are exceptionally busy. If you need an item VERY quickly, please contact us for current delivery times.
We make EVERY part by hand when orders are placed.
Nothing is "shipped in" from anywhere except the raw materials.
Copyright 2012. All rights reserved. titleiiarms.com


Thanks for shopping on our Web Site or
purchasing from our GunBroker listings.

We are fully licensed 07/C2 Dealer
SIG MPX/MCX Telescoping Rods
---
UZI PRO Pistol Floating HandGuard Quad Rail
This is a ONE OFF Custom made Floating Hand Guard for the UZI PRO Pistol. It slides over the existing short rail and extends it to 4 " The Top and side rails are 3" long. Installs in 2 minutes by slipping over lower rail and securing with the two soft tipped setscrews. Fits like a glove and SOLID. Will accept cans just under 1.5" OD.
( Shown with optional 4" 1.375 Barrel extension)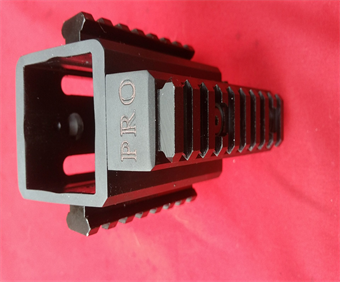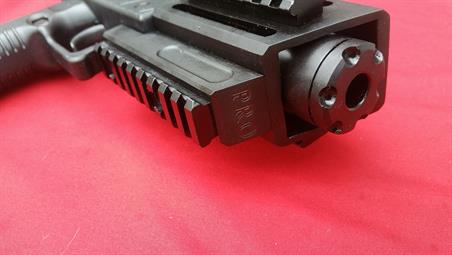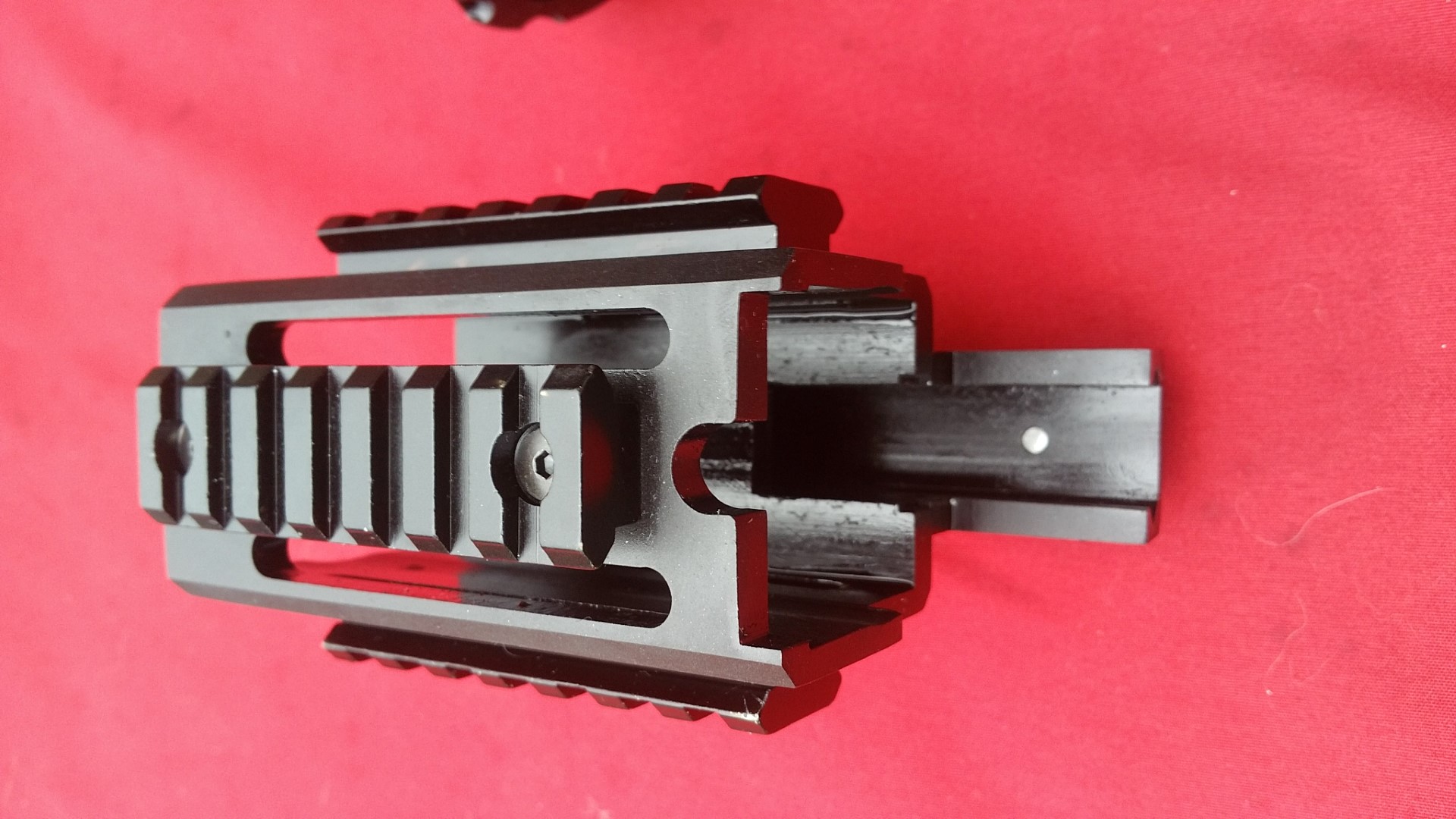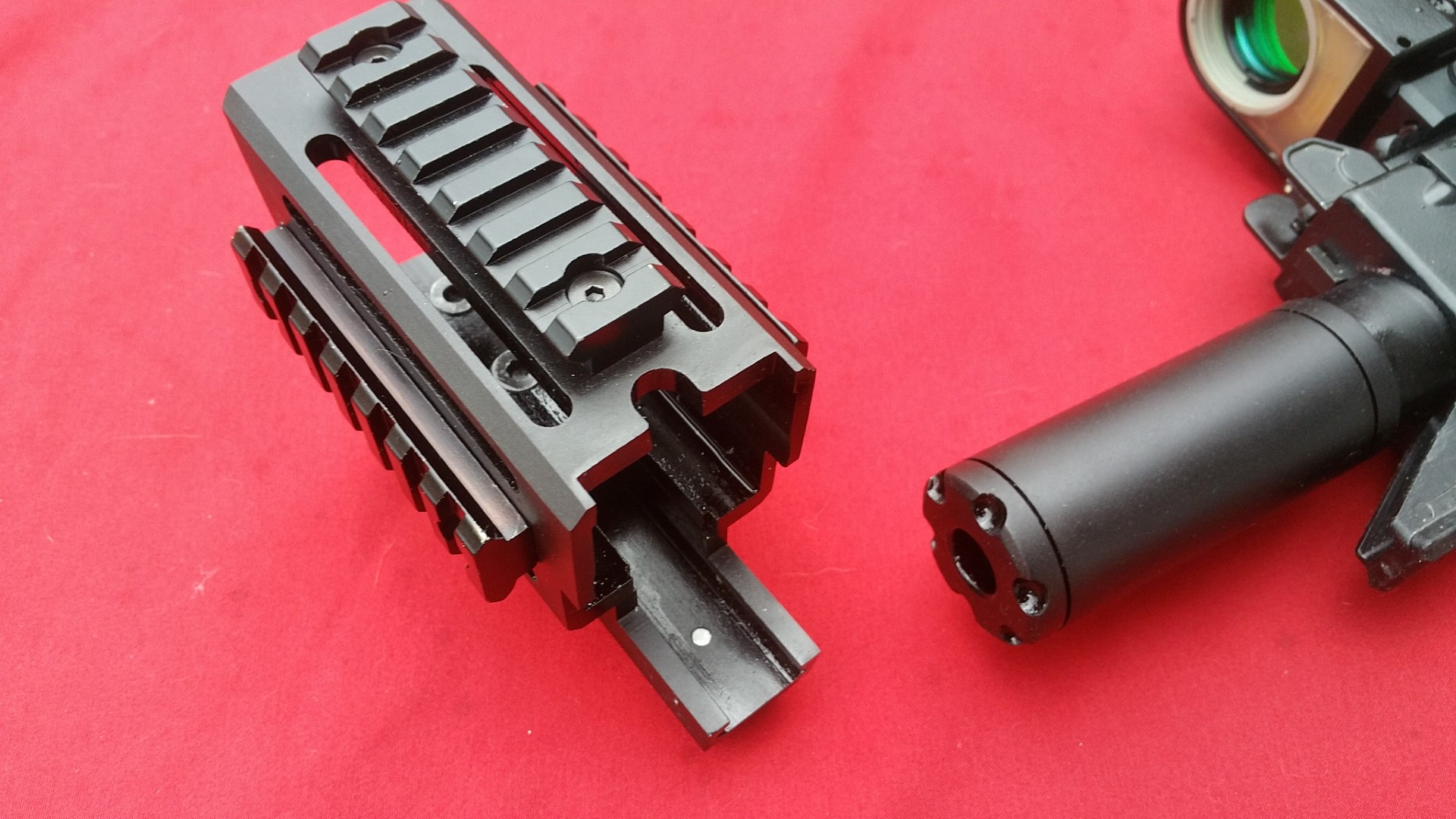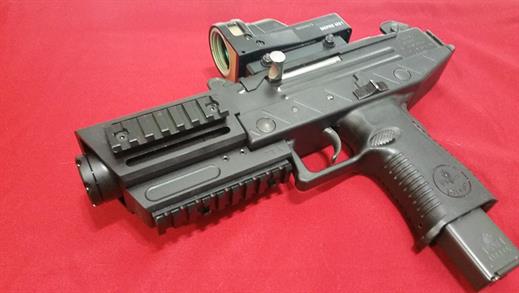 UZI PRO HARDGUARD $229.00


If you want one and can wait a week or two I will make on a special order only.

Matching Barrel Extension $79.00
---
New Style !
Octagonal
EVO Scorpion Faux Suppressor.


This is our new CZ EVO specific FAUX Barrel Extension designed for use with a free float style rail.

Fits perfect on any EVO Barrel or Rail length.
Designed to simply slide over the barrel and attach to the rear portion or barrel stub ahead of the trunnion. Fits ALL thread type guns. Gen 1 and Gen 2. Quality made from billet 6061 Anodized Aluminum with a Chrome Moly barrel liner and Hot Tanked blued mount.
Designed to cover the standard EVO pistol barrel length of 7.75 Inches but will cover and work with shorter barrels as well. Simply remove the flash hider , slide the Faux Can over the barrel, align to rail and snug one tension screw. Can be installed and removed without taking rail off ( HB Industries rail tested) Overall length for the standard Pistol length barrel is 6.25 inches and weighs apx 11 OZ

(Will NOT work with the standard factory rail . FREE FLOAT STYLE ONLY)
Shown with HB Industries Micro K 4.25 In Rail

( Shorter "K" models available )
Dealer discounts available in QTY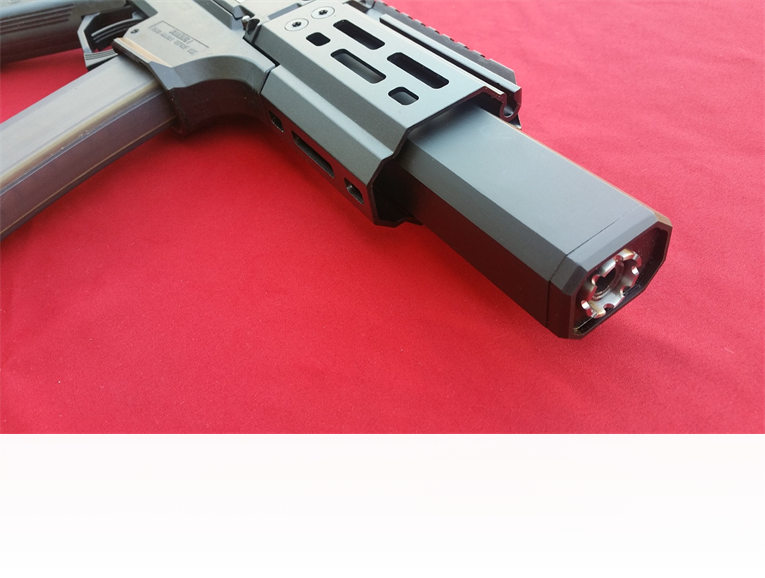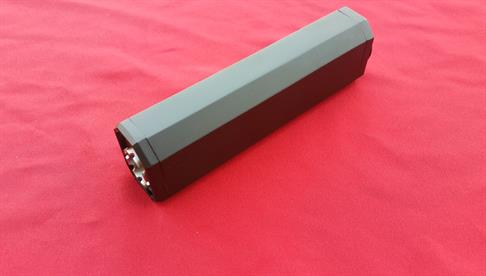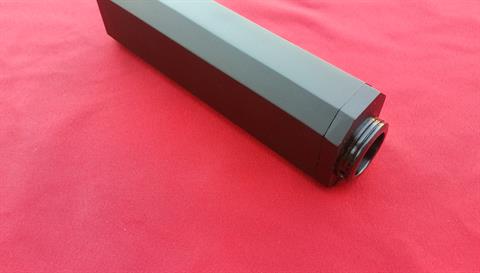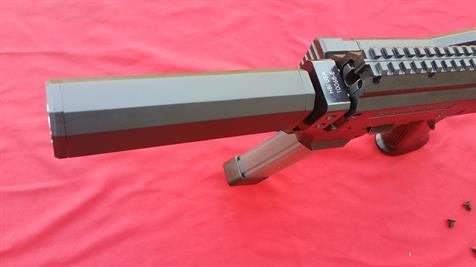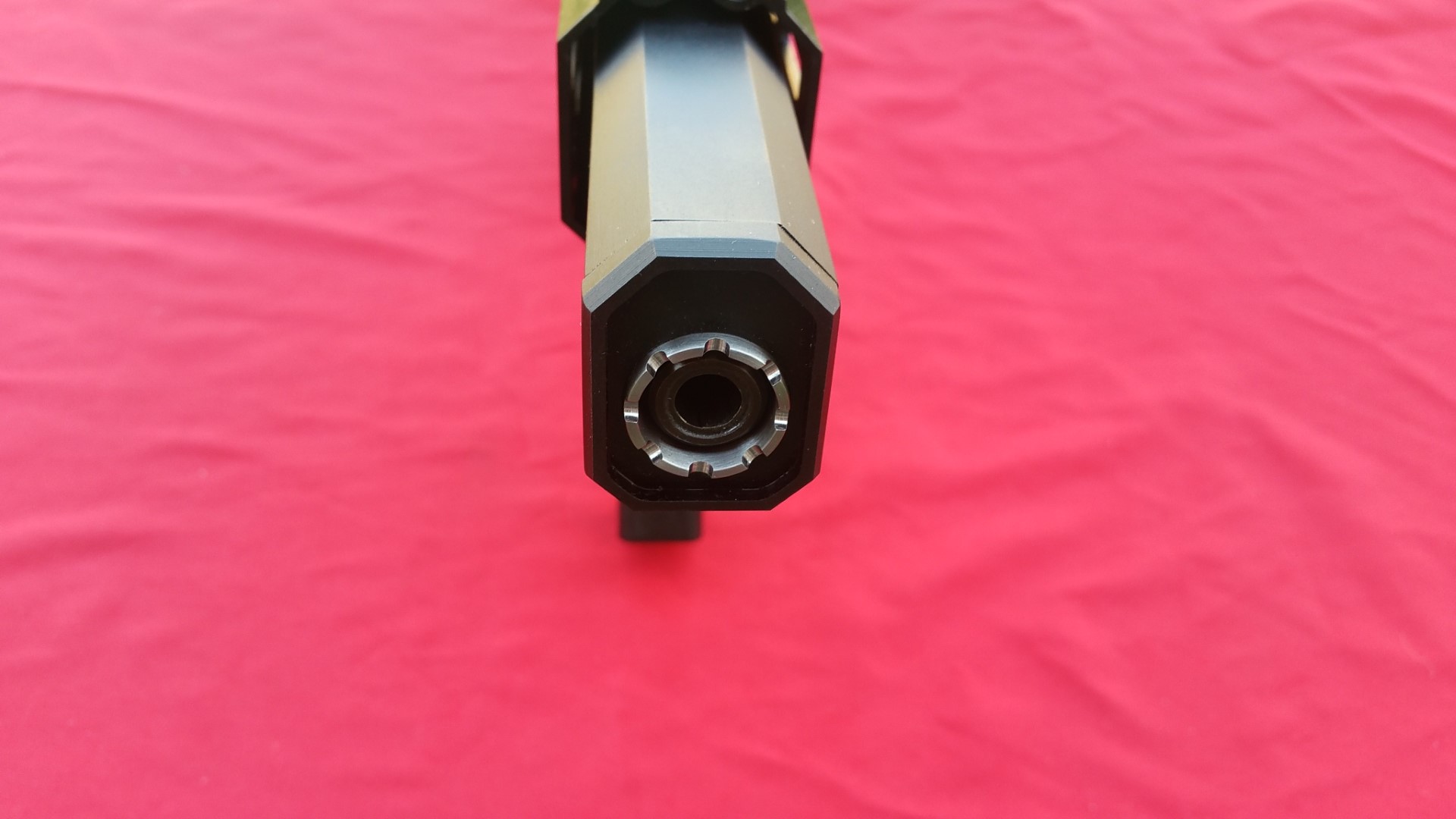 Includes the Faux Suppressor and Hex Wrench ONLY ! ( No Gun, No Rail )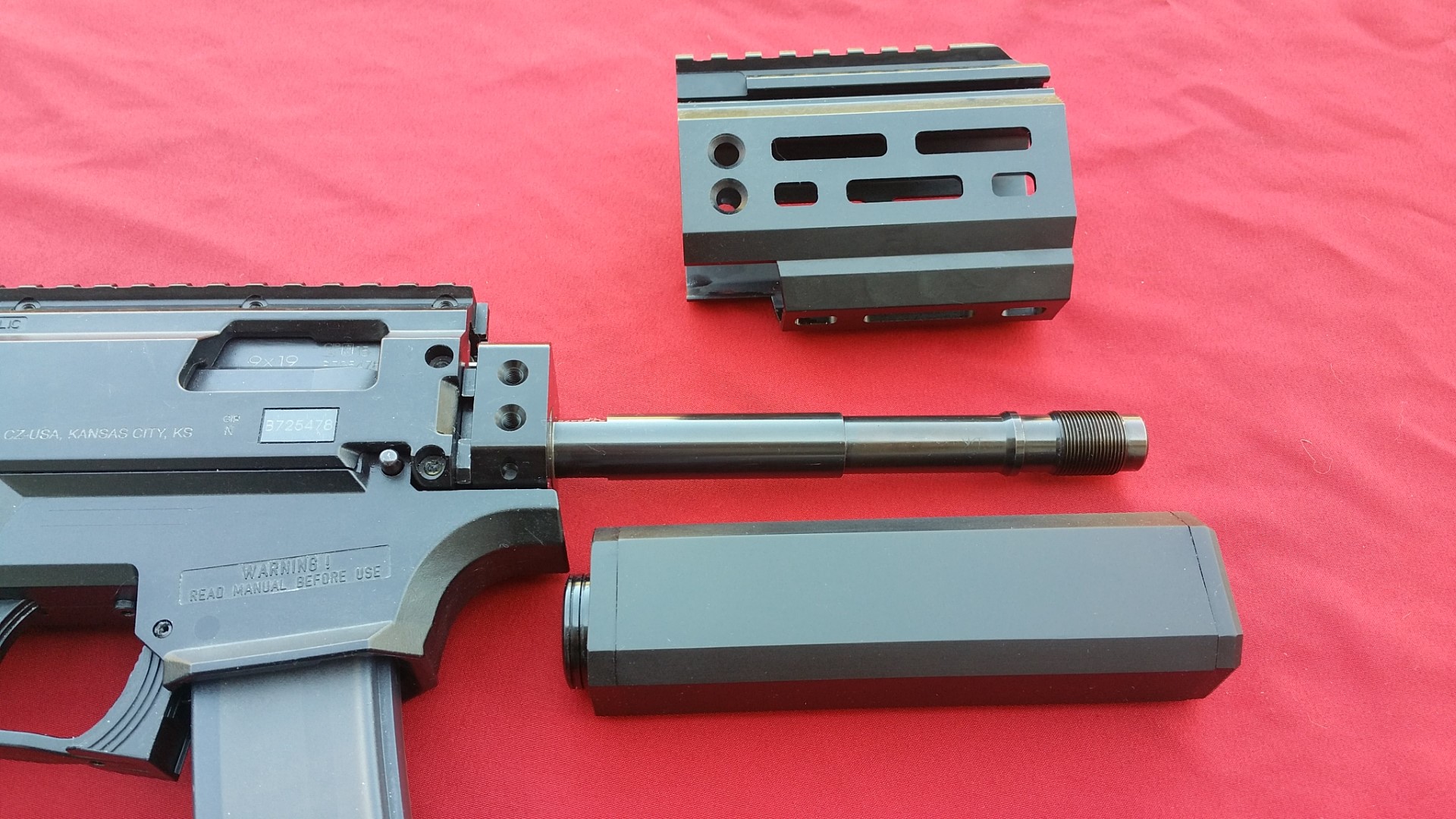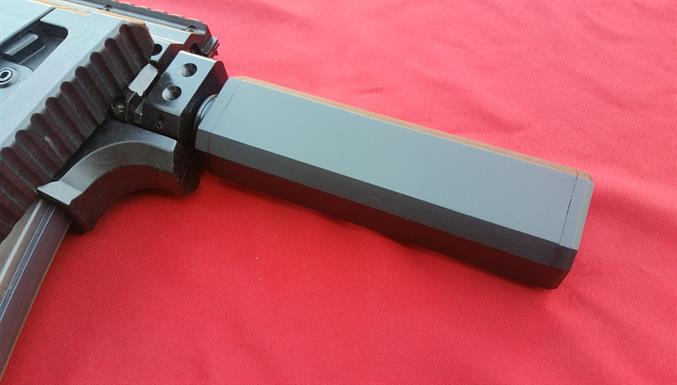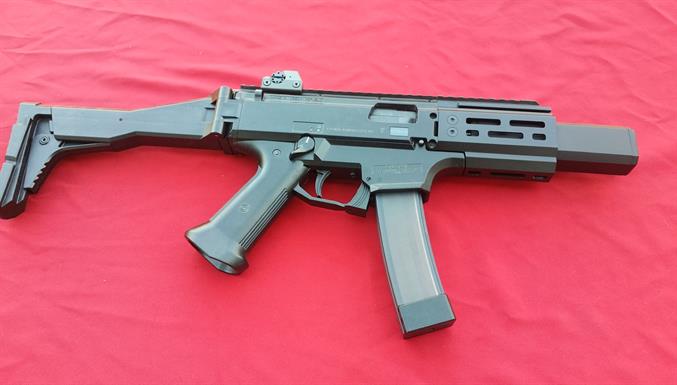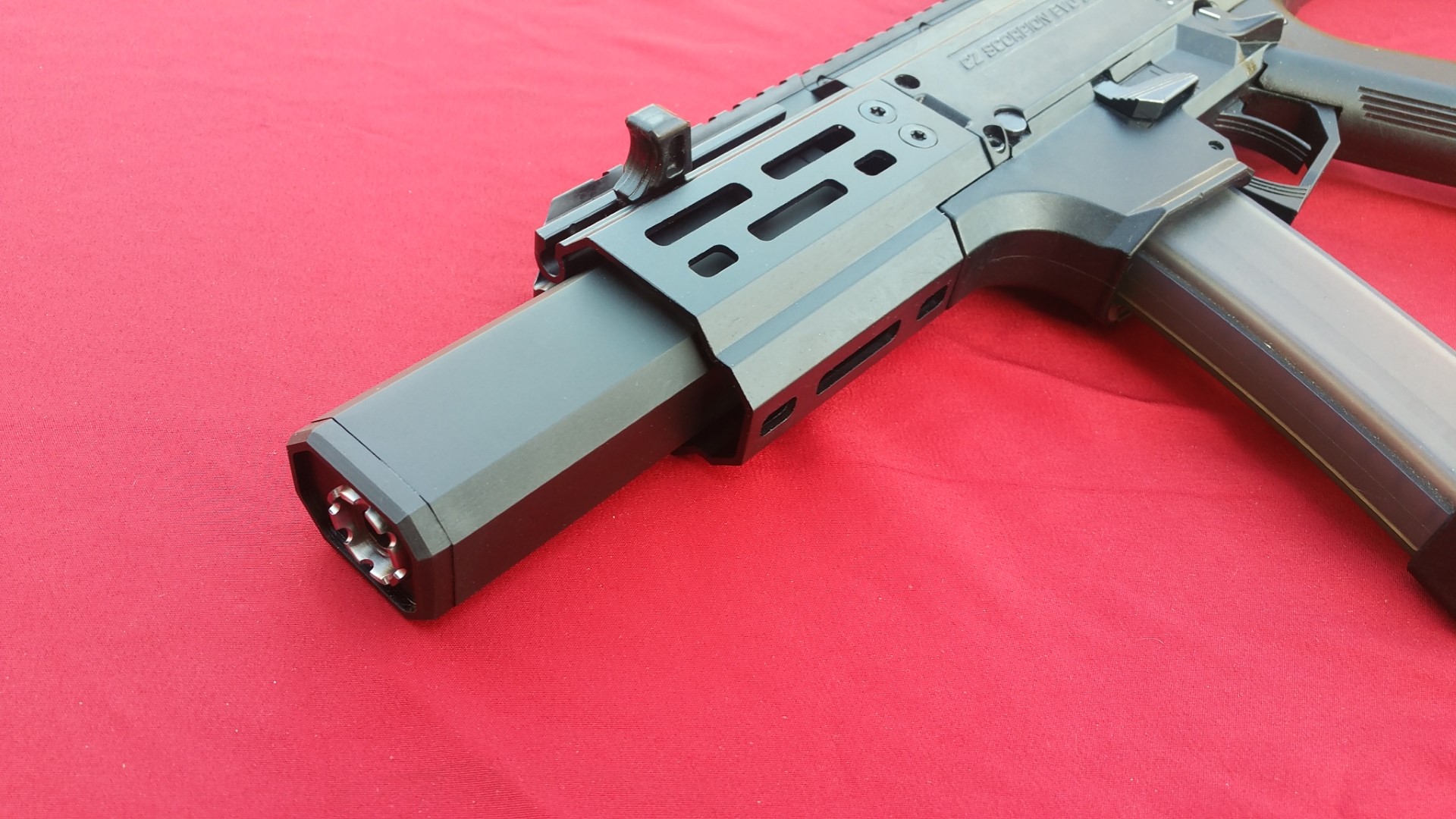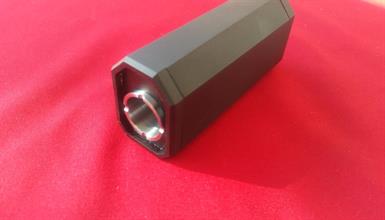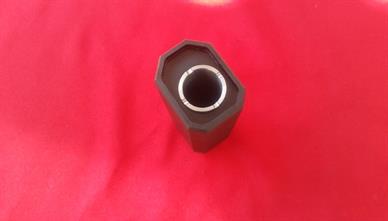 K Model on a 5.5" K barrel ( For comparson)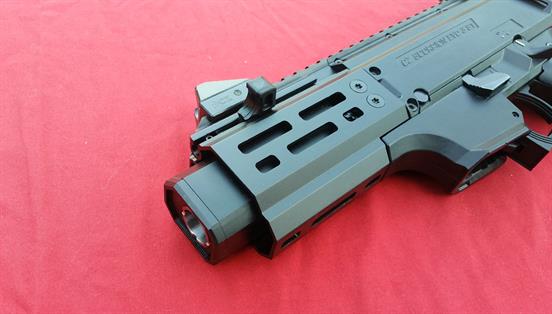 Double click to
CZ EVO Scorpion PDW Sliding Brace/Stock !

Convertible Design !
Its a Brace and then its a Stock .
Multiple Options include ATF Approved SB Tactical Mini Brace ,
Skeleton AR style Buttstock or use your Tailhook on the rear stub.

Narrow Profile width at 2.5" follows the rear frame profile
( No fat hammerhead rearend )

Bottom Thumb push button release keeps your grip hand from moving back and forth !
Adjustable Cheek Height ( .5" ) conforms to your sight preferences.
(
Slotted design allows stub to slide up and down.)

Only Adds 3.5 Inches when closed. LOP ranges from 3.5 to 14.5in . No messing with a Frame button to release mount.

SLING MOUNT ON LEFT FRAME SIDE ON OLDER MODELS WILL HAVE TO BE REMOVED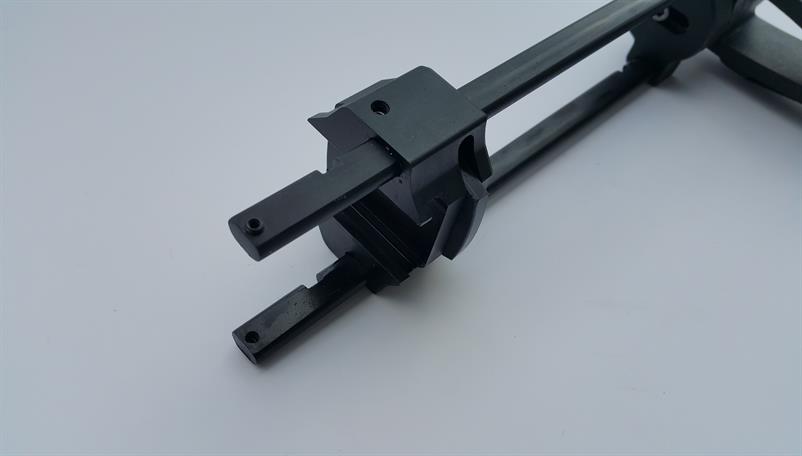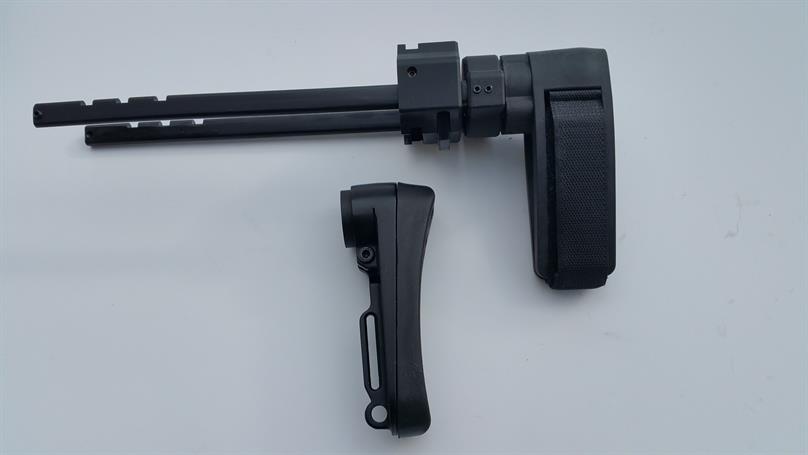 Multiple Options available from 179.00 to 239.00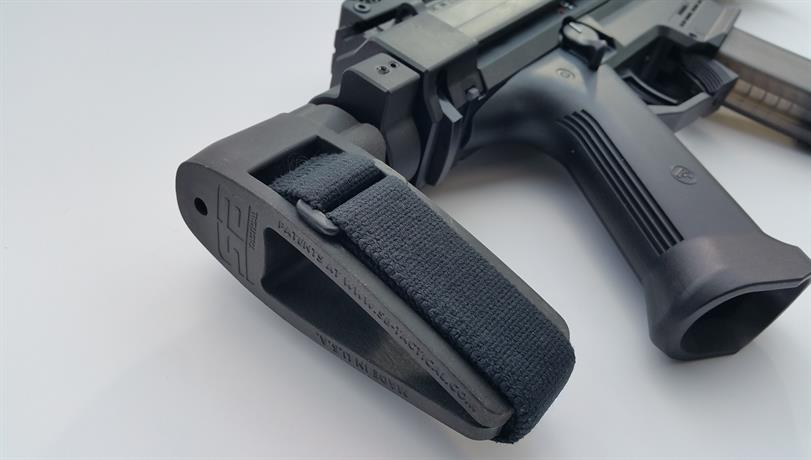 Check the CZ EVO PDW PAGE FOR LASTEST UPDATES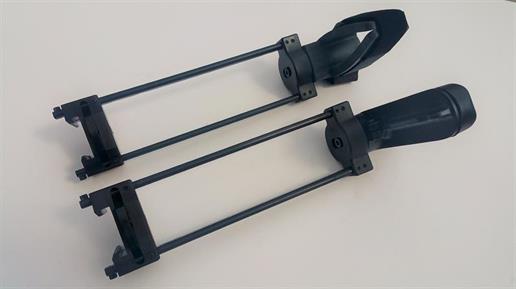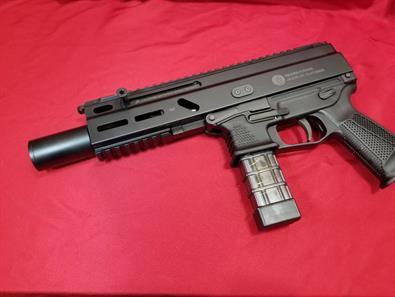 UZI FAKE SUPPRESSORS
UZI PRO PISTOL
UZI FOLDING STOCKS
SUPPRESSORS Class 3
MP5 SD Barrel Extension
MP5-3LUG FAUX Suppressor
MAC SUPPRESSORS
3 LUG COMPENSATOR
ACCESSORIES-ADAPTERS
UZI PARTS
PS90
KRISS
SIG MPX MCX RODS
SiG MPX Fake Suppressors
Sig MPX Stocks
SIG MCX
CZ 805 BREN
CZ Scorpion EVO
STRIBOG SP9A1
Introducing our new UZI PRO PDW Telescoping Rod Stock/Brace Package

Available with a SB Tactical Mini Brace, Mod 1 Tailhook Brace or Ace Ultralight Padded Buttstock . Adjustable length and drop. Solid CNC Machined Aluminum
NOW AVAILABLE !
UZI PRO PISTOL PDW BRACE
edit
---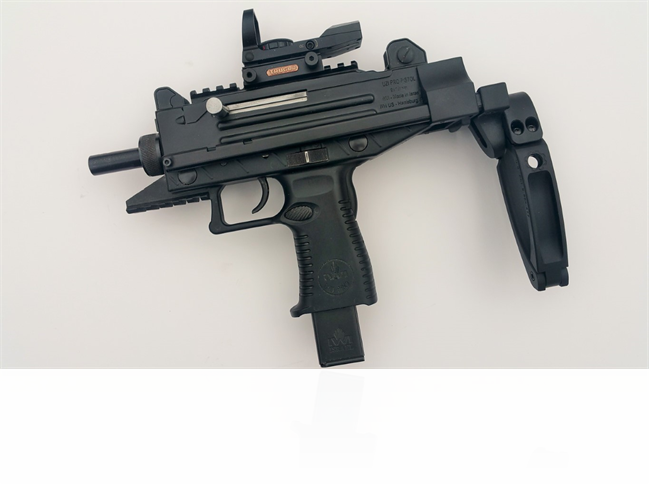 We have a limited supply of Gearhead Tailhook Mod 1 Braces in stock for our UZI Pro Pistol or CZ EVO Scorpion PDW Stock packages